Enhance Training, Recruiting and Improve Retention and Profitability
By Real Estate Coach and Speaker Judy LaDeur
One of the best ways to ensure a newer agent's success is through weekly coaching.  Not only does it help them reach their goals faster and with less stress, but top brokers know that it is part of a very strategic plan designed to complement recruiting efforts, increase retention and profitability while enhancing training programs.
Why is coaching such a hot subject today?  Because it works!  All across the globe, business professionals are hiring coaches to keep them on track and forming networking groups to share and exchange ideas.  We have combined these two ideas to make your job easier.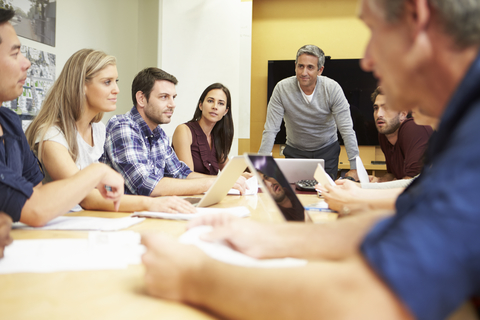 Let's start with the issues facing managers and Brokers today:
It seems tougher to keep the ones you have.
Recruiting experienced agents seems to be a greater challenge today.
With increase splits and the cost of maintaining systems and an office that is "high-tech" and "leading edge", profits are dwindling.
It takes six months of time and training to get a new agent to a productive state. And yet 50-70% of the new ones you hire will not make it and leave the business, or not make it and stay in your office.
My 35-year background in training, coaching and recruiting has taught me that any system that increases an agent's production can be used to recruit other agents.  Plus, a system that increases an agent's production helps retention and of course increased production results in increased profits.
As described in my plan to get new agents productive in under 30 days, the key components to increase production are:
High Accountability
High Expectations
Direction
A Proven Plan
Written Goals
I believe every agent who enters this business wants to be successful.  I also believe most of them just do not know how to operate as independent contractors.  That's where coaching comes in!
Coaching groups meet on a regular basis.  They set goals and they have assignments.  There is an expectation of what they should do, and peer pressure if they don't.
What do the agents like about coaching groups?  They get to share their ideas.  They learn from others who have already mastered techniques and dialog.  It gives them a sense of self-worth and it keeps them on track.
Why do Brokers and managers like coaching groups? Coaching groups save time.  You can effectively coach an entire group of agents for an investment of one hour per week.  Coaching groups save careers.  Some agents just need more time and more direction.  When they don't get it, they don't make it. Thousands of agents in every major marketplace are searching for someone who will take an interest in their success and their career.  If your group is successful, and you market those results to "those agents" who are searching for support and direction, they will seek you out.
Top Producers also need a forum where they too can exchange ideas and learn from others.  This is typically referred to as a Master Mind Group or Networking Exchange. There is very little preparation time needed on the broker's part for this group.
The Formula
Participation in the group should be voluntary, but if they sign up, they should commit to be there for each session.
Choose a convenient time that will not conflict with their schedule.
You may set up more than one group. Groups should be set up with agents of similar production and similar goals.

You could set up a group of agents in the business less than 1 year or less than $1,000,000.00 in production.  Their goal might be 2 units of production per month.
You could also have a group that currently averages 2 units of production per month, with a goal of 4 units per month.  The agents in the first group, the beginners, could graduate to the next level by maintaining their production of 2 units a month for a specific period of time, such as 4 months.
If you have a large group of top producers you could set up a coaching group for them as well. If you don't have a lot of top producers yet, you will.

Start with one group, and then 30-60 days later, start the second group.
At the first meeting, discuss goals and give them the format as well as your expectations. Let them know that you will be asking them for their numbers every week, and they should come prepared.
You act as a monitor, not a teacher. As a monitor, you will ask each agent to share an idea and will keep the discussion moving.  Only after the agents have shared their ideas, should you offer ideas of your own.  Let them be the stars.
Select a topic and announce it in advance so they are prepared. It should be a very small, very specific topic that can be discussed in detail.  You can choose the first 4-6 topics and then let them begin to tell you what they need. Here are some examples:

How to overcome the objection of reducing your commission.
How to stage a home for sale.
What do you say when you call FSBO?
What do you do to set yourself apart from your competition?

Everybody participates. Go around the group and ask each person what they do to (whatever the topic is).  Let others ask them questions, and then move onto the next agent.  Make sure they all take notes; however, you may want to take notes yourself and then have them typed and distributed to those in the group.  You can start your own notebook of proven training techniques and ideas to share with new agents in the future or perhaps it will be the agenda for one of your future sales meetings.
Go around the group and ask each participant what their activity was and what their results were. If the goal is two units per month, they need one unit the first two weeks to be on track.
Create fun incentives. Anyone "On Track" after the first quarter gets to participate in the On-Track Luncheon, your treat.  Or perhaps they get points for each month they are on track, points for activity, points for the idea that helped someone secure a transaction the next week, etc.  Then at the end of the year, the number of points they have determines the prize they win.  You could also lose points if you miss a meeting.  Give them four allowed misses per year to allow for vacations, holidays or sick days.
There are lots of variations on how to effectively coach your agents. Have fun with it, experiment and see what works best for you and your team.
Is recruiting a challenge for you?  We can help.  Join The Profitable Recruiter and gain access to 7+ hours of audio training via downloadable links, powerful recruiting letters and notes, emails, social media tips, over 30 webinars for recruiting and retention, and opportunities to network with the best of the best. Take advantage of our special offer and save 35% on YOUR New Pro Membership with Promo Code: PLAN35.
Not sure if this is the right thing for your company?  Watch this video on demand to learn why brokers across the country are making it their turn to way to stay positioned for recruiting success in today's market — and putting the fun back into their recruiting.  (Which is way better than dread – right?) We're taking the guesswork out of recruiting for brokers — and they are loving it.  We can do the same for you! Questions?  Email us today.