By Judy LaDeur
The buzzword for the last 18 months? DISRUPTER.
A disrupter is anything that disrupts the way that we do business. Your ability to remain profitable is determined by how you and your agents respond to disrupters. There will ALWAYS be disrupters and disrupters will always affect our industry and retention.
So much change has happened. New companies jockeying to take over the market, and a few who left the market or merged. There have been billions of dollars in investor backing for startups 18 months ago, but not so much today. Now we are seeing leadership shakeups, mergers, alliances, technology – and lawsuits. And honestly – we won't even know the full extent of disruption for probably two years!
So, what do agents want and need during this time of change?
Solutions. Calm. Systems. Training. Tools. Answers. Now is the time to improve, re-engage, and re-examine what you by way of offerings and determine where you can make things even better.
If you can be agent-centric and provide the support that they need to be consumer-centric – you'll have a winning combination.
On our recent webinar, I shared the stats and numbers you need to compete in this changing and sometimes challenging market.
Profitable Recruiter Members, login here and head to Webinars on Demand to watch the full hour video.
The bottom line?
Know your numbers. Understand where you are right now in terms of agents, growth, retention, and market share.
Know your competitors. Who is growing in your market? Who is adding services and tools? Who has the kind of training agents are lining up for?
Know your value. What are the things that you do or offer that are exceptional? How can you not only build on that value, but improve on it?
We've put together this worksheet to help you evaluate where you are and where you can create the shifts you need to be a 5-star office that agents can't wait to join! Profitable Recruiter Members, you'll find the pdf version of this in your Resource section, along with stats that I shared on the webinar.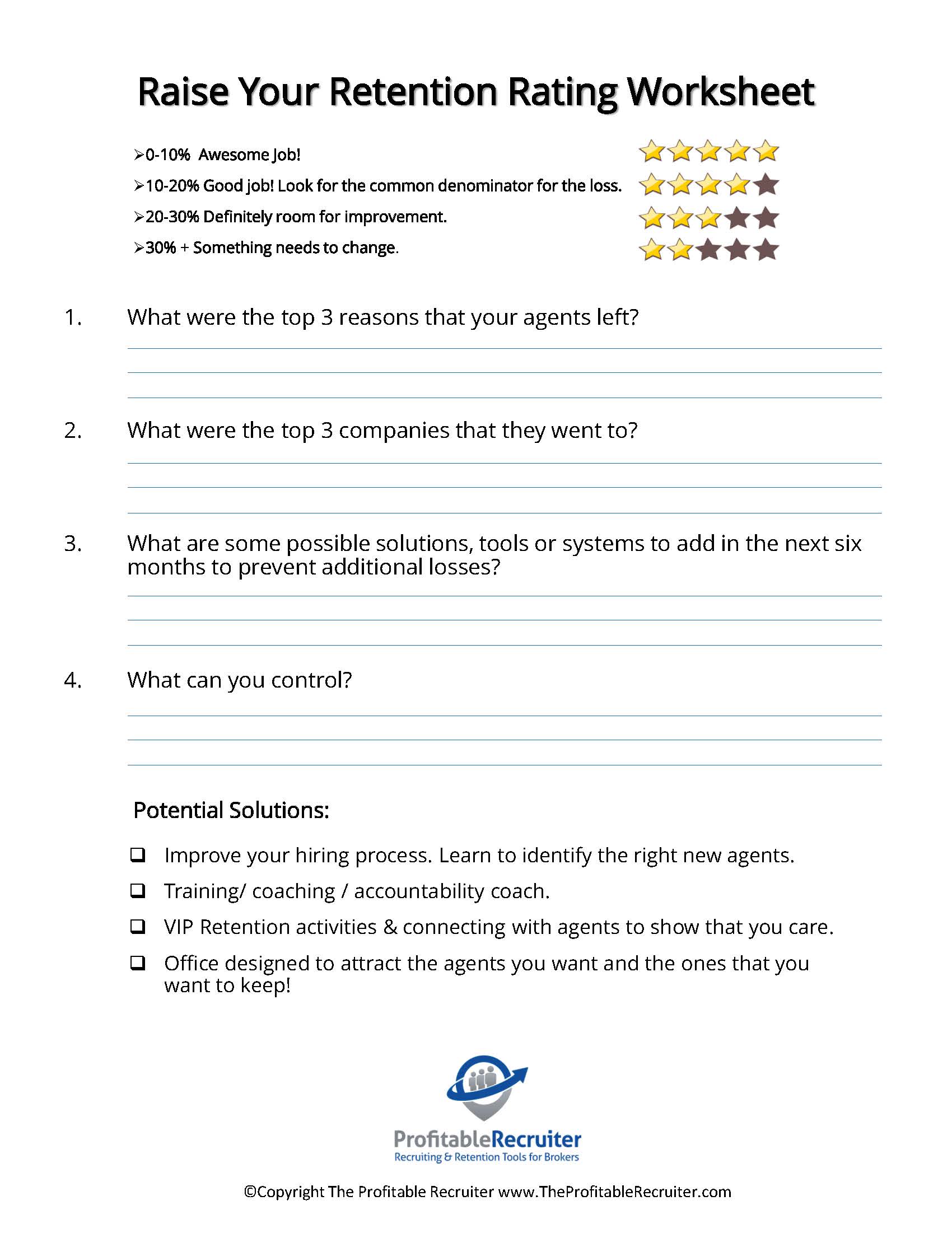 Want to learn how to master these skills and build an extraordinary team?  Bookmark our blog, and join The Profitable Recruiter today.  We have a full spectrum of membership benefits with all the tools, strategies and solutions you need to position yourself to win this year and every year. Our goal is for you to become the "turn-to" broker in your area for every agent.  
Join today and take advantage of our special offer of 40% off with the promo code 40OFF any pro membership.  That's 40% off everything you need to be in the right place at the right time when the agents you want are ready to make a move – including SEVEN HOURS of recruiting audio training!  What are you waiting for? When you join – you and up to 10 managers can access your account! Try it for a month and see what it can do for you.