A Spotlight on Top Agent Nikki James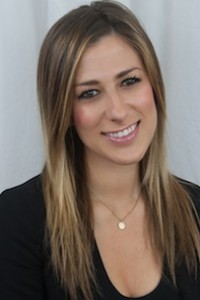 By Coach Judy LaDeur
Recently we hosted a webinar with our gracious guest and top agent and team leader Nikki James.  Her insights and ideas were not only spot on for our industry – they were creative, collaborative, and a big part of why she's taking her team to the top.
Here are some insights from our interview:
Q:  Nikki, you started your real estate career in San Diego as an assistant for a top producing RE/MAX Agent in 2009.  Today, you are leading a highly productive team at RE/MAX Gold. That's quite the transition, congratulations on your success!  What was it that first made you think, "Hey, I can do this!"?
A:  My husband has been in the Real Estate business for 13 years and he always told me how much I'd love it and how it really suited my personality. I was finishing up my business degree at San Diego State and decided to start studying for my license during my last semester as a "back up plan". Very soon after graduation, much to my husband's credit, I realized I did not want to work for anyone else.  I decided to start as an assistant so I could ensure some cash flow while I learned the business. Things were a lot different in the market back in 2010 and I was scared! The majority of transactions were distressed sales and/or investors purchasing with all cash. Neither of which I had much experience with.  I realized after about a year in that role, that I was now the one putting out fires, talking with and meeting his clients, and handling his day to day business. It gave me the confidence to venture out on my own and not feel inexperienced while consulting clients that were my parent's age on their real estate decisions! Even before I closed my very first transaction on my own, I had assisted on hundreds of other deals and was able to anticipate any hurdles to come. I'm very grateful I started when I did and learned the business during some tough times because when things started to shift, I did not take those easy transactions for granted.
Q:  Today, you have a very successful four-member team, whose production will be about 25 million for 2015. That's amazing! What does it take to run a team, and more importantly, a successful team?
A:  Frankly, it takes money. Like any business, it takes startup capital. We had to work hard to get to a point to be able to invest back in our business.  Once we got to that point, we made sure to take baby steps. Adding one team member at a time until we made sure we had enough business to sustain that member. We are about quality, not quantity. I'd rather stay at our size and have everyone double their business next year than add more people and have less time or resources to give to each member. I truly only feel successful when my team members individually feel successful and satisfied in their business. It's always my number one priority.
Q:  Can you tell us about your team and the role each one plays?
A:  As we all know, there are many different ways to structure team.  I've seen many agents in our industry have very specific "roles" such as TC, Buyer's Agents, Listing Agents, Admins, etc. Our philosophy is a bit different.  I give my team members the freedom to have their own identities as independent agents and not be overshadowed by a team leader's "team name." I've found that most agents get into this business because they are entrepreneurial at heart which means agents want the freedom to brand themselves and not work for "someone else." We don't have a team name for that very reason.  We work closely with each of our team members to help them brand themselves and create their own identity and book of business. I'm trying to create an environment that lasts, and that my team members don't feel like they need to have an exit strategy one day. We feel that giving our agents full autonomy and behind the scenes support and additional business, they won't need to go anywhere!
Q: I understand that you place a lot of focus on lead generation and retention activities. Can you share some of those with us please?
A:  Of course. Part of our value proposition is that we invest pretty heavily in marketing that drives a significant amount of business that we distribute to our team. A few of the platforms we advertise on include: Realtor.com, Zillow.com, we have a niche condo website we run here for the Sacramento Region that has been very fruitful called SacramentoCondoMania.com. Because internet leads are different than traditional clients, we focused on initially training each of our team members on how to connect with, qualify and convert these leads to clients pretty effectively. The internet lead is typically in the very beginning stages of their home search and possibly may even be years out from making a move. We cultivate long term relationships with these clients, putting them on a drip system and staying front of mind so that when they are ready to make a move, they will have no doubts on who to call.
Q:  You are also doing Detailed tracking of all business for all team members, which demonstrates value. Can you tell us about that please?
A:  Yes, we use a lead tracking system that allows us to account for every single lead and client we work with, where it is in the buying cycle and track where it came from. The system is advanced enough to alert each agent on when to follow up with the lead, based on the amount of contacts it's received. Once the lead moves through the system and ultimately closes on a home with our agent, the system is able to calculate conversion ratios as well. It's a very helpful, organized tool and database to make sure no one falls through the crack and you know exactly how well you are doing at the end of the year.
Q:  How important is value proposition as a team leader, and what do you do to instill that value to you team on a regular basis?  
A:  It's everything! If there is no value added, you won't keep team members very long! I am in contact with every one of my team members almost every day, if not every other day, for various reasons. If I don't hear from a member for a few days, I make it a point to reach out via text or phone call to simply connect and ask if I can assist them in any way. I help a lot with the transaction coordination of our team's files, so I am constantly behind the scenes assisting my agents. In addition, we try and have quarterly one-on-ones to keep an open line of communication and are always looking for ways to improve their experience on our team.
Q:  If you had to describe your leadership style in a few words, what would it be?
A:  Because we don't have admins, TCs, or assistants at this time, I would say I'm more of a resource and support type of leader to my team.
Q:  Do you use social media in your business, and if so, how?
A:  Yes. I use it as an extension of my database, not to directly advertise on. I use it as a tool to engage my sphere, my colleagues, my past clients, to stay relevant in the industry news, and to share cute pics of my baby. I've learned from client feedback that they love seeing some of my personal life and frankly, most people these days are burnt out on constant ads/business posts on the social media arena. We are more relationship centered and make sure all our followers know what we do and how to reach out if they'd like our help.
Q:  You also have a strong referral-based business, which requires pop-by's, calls, letters, etc. What have you found works best with regard to receiving referrals and leads from friends, family and past clients?
A:  It seems to be all in the details! As soon as I close on a home, I fill my calender up with reminder's to follow up on their month anniversary, 6 months, 1 year and every year afterwards. This follow up just says, "How are you loving your home, neighborhood? Need anything from us? I'm here for you, YOUR REALTOR". Believe it or not, many of my young clients that I help purchase a home don't know that I actually list homes as well. I make it a point to let them know when/if they ever decide to sell, I would love to represent them again.
Q:  If one of our readers is thinking of building a team, what advice would you give them?
A:  Most importantly, make sure you are hiring the right people. You want to make sure their work ethic, communication style, personalities mesh well with yours or that you have a full understanding of how to connect with them BEFORE you make the investment in adding them to your team. Secondly, I would say make sure you have enough business to share with them! You can have all the awesome people in the world on your team but if you aren't adding value or adding fuel to their business, they will likely start to look elsewhere.
Q:  Are there any activities that you have found that work well to "jump start" a real Estate career for any new agents who are listening. Something that would give them quick results?
A:  Write a letter and make phone calls to your entire sphere of influence, family, extended family, church family, letting them know you are in the business and would love to help them achieve their real estate goals! Talk to everyone you come into contact with about the industry. I can't tell you how many business cars I've handed out in the line at the grocery store. If people don't know you need and want their business, they'll assume you don't!
Q:  Nikki, is there anything that you would like to add before we end and let everyone know where they can find you when they have referrals in the Sacramento area?
A:  I'd just like to say thank you so much for having me and thank you to my amazing team for partnering with me. We always love referrals! My website is Sachomemarket.com email is nikkijames@remax.net.
Thank you so much Nikki – you're an incredible asset to our industry and we so appreciate your willingness to share.  We invite all our readers to reach out to you and your team with their referrals – and we're excited to watch your team continue to succeed!  To listen to Nikki's entire interview log in to your Profitable Recruiter platform today and check it out in our webinars on demand!
For more great ideas on giving your agents the best resources possible, while attracting awesome new agents, join The Profitable Recruiter.  Take advantage of our special offer of 30% off with the promo code 30OFF any pro membership.  That's 30% off everything you need to be in the right place at the right time when the agents you want are ready to make a move – including SEVEN HOURS of recruiting audio training!  What are you waiting for? When you join – you and up to 10 managers can access your account! Try it for a month and see what it can do for you.