By Real Estate Recruiting Coach Judy LaDeur
Last week's article talked about the disrupters in the market. That article has generated lots of activity, as well as many inquiries and questions from our readers.The number one question asked was, "How do I set myself apart?"  The answer is easy, but it does require that you think outside the box and commit to branding yourself, your office, and your agents as experts or specialists.
If I were to ask your agents this question: "What are you known for and what is it that you do best?" What would their answer be? The answer is what will set them apart from the competition, especially when there are disruptors in the marketplace. If you are not sure, here are some ideas: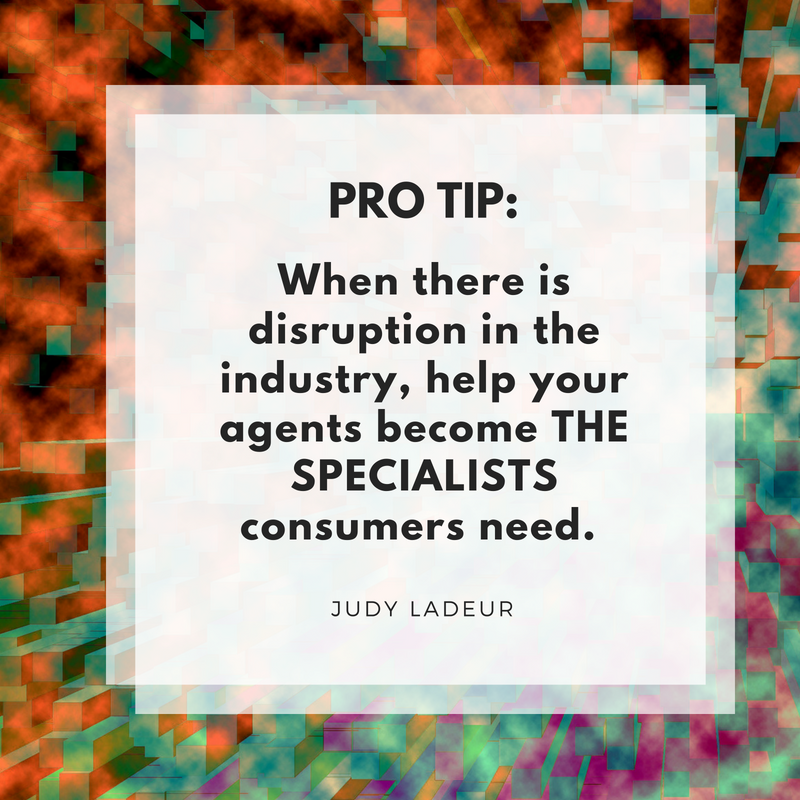 Negotiation Specialist
Valuation Specialist
Staging Consultant
Marketing Strategist
Better Days on Market Results
High List to Sell Ratio
Fewer Expireds
High Listing Inventory
High Average Sales Price
Luxury Specialist
Farm & Acreage Expert
Land Development Expert
Senior Market Expert
Multi-Cultural Specialist
Highest Production
This is quickly becoming the age of specialization, and your agents get to choose what they want to be known for.  How will your agents brand and market themselves in a way that causes them to stand out from the crowd? What support can you offer in this area?
How do you create the desire on the part of the agents to be a part of what you are building?
Next week, we'll share some valuable ideas on what YOU can do to provide the right environment for your agents to find their field of specialization. This week, help determine the "who and what", and then we will help you with the how.
This topic is the focus of our retreat in October.  Creating value in a market filled with opportunities for the agents that you have and the agents that you want. As the Broker, it is your responsibility to be armed with the tools and resources that will allow you to recruit and retain the agents that you want in todays fast moving market. If you're battling disruptors, don't miss this event. Let us help you navigate through uncertain times and come out on top! Register today by calling 630-402-0898 or click here for your enrollment form.
Profitable Recruiter Members, log in here and visit webinars on demand to watch this week's webinar all about the DISRUPTORS in our industry.
Continue to learn how to be the master recruiting skills and be the broker to join in your market.  Bookmark our blog, and join The Profitable Recruiter today.  We have a full spectrum of membership benefits with all the tools, strategies and solutions you need to position yourself to win this year and every year. Our goal is for you to become the "turn-to" broker in your area for every agent.  
Join today and take advantage of our special offer of 50% off with the promo code 50OFF any 6 month or annual membership.  That's 50% off everything you need to be in the right place at the right time when the agents you want are ready to make a move – including SEVEN HOURS of recruiting audio training!  What are you waiting for? When you join – you and up to 10 managers can access your account! Try it for a month and see what it can do for you.