What Kind of Marketing Do I Use?
By Judy LaDeur
The #1 question that Brokers ask is what type of marketing is most effective to market themselves, their tools, and their firm.  There are actually two types of marketing and both are essential to long-term success. The two types of marketing are educational and positioning.
Educational marketing is the type of marketing that educates the agents about who you are, what you offer, why they should consider your firm when they are moving.  This type of marketing is very important. The goal is to create curiosity and desire to know more about your company and the opportunities that you offer. You might talk about your training and the results. Anyone who wants to increase their business would be curious or desire to know more, which is how you would then secure interviews. Or you could send out a sample of your marketing pieces, showing agents the quality of your marketing materials as well as the results of some of your agents who are consistent with their marketing. The job an effective "educational" campaign is that the candidate should be 50% sold on your firm when they meet with you, as a result of this type of marketing and education.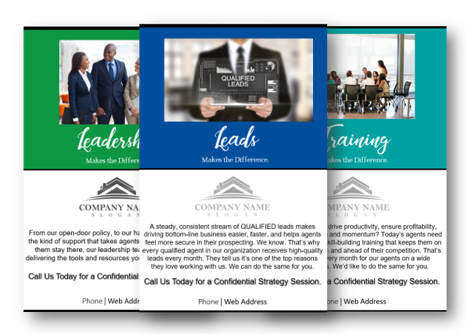 What if the potential recruit is perfectly happy and has no desire to move? Are they going to read what you send out? Maybe not. So, how do you get this person's attention? That's where the other type of marketing comes in, which is called positioning.
This is marketing that is designed to keep you positioned with the agents that you want to recruit in the future. It needs to be non-threatening. In fact, you should not ask them to meet with you or try to recruit them in your positioning pieces at all. They are simply designed to build the relationship and maintain "top-of-mind" awareness at all times. They are motivational or inspirational in nature.
Agents look forward to hearing from you when you send "feel good" marketing pieces, which is why we created The Profitable Recruiter weekly eNewsletters. They are messages that everyone can connect with or relate to. PLUS, when your recruits, as well as your agents, send those marketing pieces to THEIR clients, friends, and family, YOU are helping them stay positioned with their database for additional business. It does not get better than that!
As you roll out your marketing campaign, include both educational and positioning pieces and apply the Rule of Seven, which is an old marketing adage.
It says that a prospect needs to see or hear your marketing message, it will take at least seven times before they take action. Now the number seven isn't cast in stone, but it's a good rule of thumb!
Hit the second half of the year STRONG! We're here to help!
Want to learn how to master these skills and build an extraordinary team?  Bookmark our blog, and join The Profitable Recruiter today.  We have a full spectrum of membership benefits with all the tools, strategies and solutions you need to position yourself to win this year and every year. Our goal is for you to become the "turn-to" broker in your area for every agent.  
Join today and take advantage of our special offer of 45% off with the promo code 50OFF any pro membership.  That's 50% off everything you need to be in the right place at the right time when the agents you want are ready to make a move – including SEVEN HOURS of recruiting audio training!  What are you waiting for? When you join – you and up to 10 managers can access your account!