A Big Thank You to all who turned out for our annual wrap-up webinar where Coach Judy LaDeur and Julie Escobar share the top strategies from the year and look forward to the new year with predictions, ideas, and insights!
Watch on demand!
On our webinar, Judy references tips from many of this year's past monthly webinars. Profitable Recruiter members – you'll find more than 80 webinars on demand in your membership portal. Simply log in here and click on the webinars on demand tab!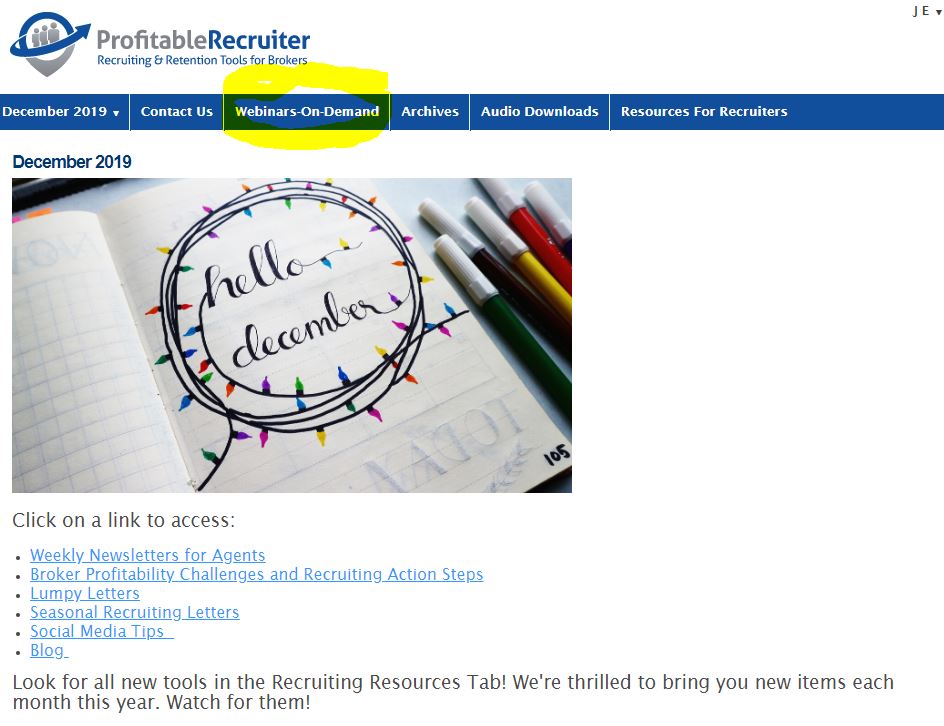 Is recruiting a challenge for you?  We can help.  Join The Profitable Recruiter and you'll get….
A powerful, results-producing, content-rich resource for brokers to both recruit the agents that will enhance their team, and help retain their current associates with a hands-on, high-touch, compelling combination of…
robust weekly email newsletters to send to your agents and recruits
a library of completely editable letters, emails, and agent touch-points
a cache of social media tips to make life a little easier
results-producing recruiting tips and tools that get results
solid action plan ideas to build momentum and keep it
professional coaching support from one of the top recruiting coaches in the business
empowering profitability keys for maximizing your business
monthly recruiting webinars with powerful coaching and implementation tools
quarterly guest speakers and trainers featuring top agents sharing their successful sales strategies
7 HOURS of intensive recruiting training including scripts, dialogues, objection handlers and more
and so much more…
A premiere recruiting and retention product just for brokers and managers.
Join today and take advantage of our special 50% off with the promo code 50OFF any 6-month or annual membership.