Insights and Ideas From Finland's Maija Jussila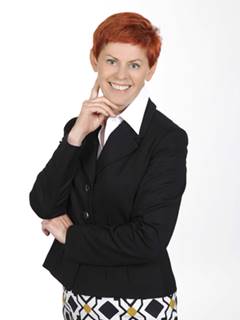 By Julie Escobar
Continuing on our quest to bring you some of the best real estate recruiting insights in the business from all over the globe, this week be bring you great advice all the way from Finland and top Recruiter and Field Director Maija Jussila. She shares some of her strategies for positioning yourself to WIN in even the most challenging markets.
Here's what we learned:
Q: Hello Maija! Can you tell our readers a little about yourself to start?
A: Yes, I work at the head office of HUOM! real estate chain as a Field Director. HUOM! started its operation in May 2011 and it is the fastest growing real estate company in Finland, now the 4th largest company. My job as a Field Director is to support regional businesses, train regional broker owners and agents and also take part in recruiting. In addition, the head office has three of our own offices, which are in my responsibility. Recruiting is a big part of my work in these three offices. As a member of HUOM! real estate chain management team I take part in strategic planning and implementation.
Before HUOM! I worked as a Regional Director in RE/MAX Finland. When I started in RE/MAX Finland there were about 20 agents and when I left there were 200 agents. When franchise ownership changed in 2011, I started working at HUOM!. I have 10 years' experience in the real estate business, four years as an agent and as well I have long career in banking industry as a Client Executive. I´m a very competitive person, not only in business but also in sports (golf).
Q: Awesome! What do you think it take to run a profitable brokerage in today's market?
A: Real estate markets are very difficult in Finland due to a prolonged recession. I only recruit experienced agents that I trust and who are more productive quickly. I believe that productive agents are happy and happy agents are productive. Recruiting has to be constant process, because unproductive agents leave. In challenging markets struggling agents need more support from both a recruiting and retention standpoint. Goal-directing is always key for helping agents, as is supporting them to reach those goals. We've found that having our agents goals as well as the company's goals clearly in mind at all times to be a great benefit. I've also found incredible value in working with Judy LaDeur as my business and recruiting coach. From her training I get new ideas, knowledge and a huge amount of energy. Especially during the challenging times, I have noticed how important is to get coaching to get on track and stay there.
Q: That's great! Maija, how do you identify your 'hit list"?
A: I have three categories for my prospects: A, B and C. I constantly follow the listings of our competitor companies and I also collect recommendations of potential agents from my existing agents. This is the way I know which agents are our best candidates for recruiting. Category A includes the most wanted agents and I contact regularly. Two other categories have less hot prospects. Maintaining the list keeps me up to date by agent markets. In the future I´m going to also recruit new agents, but in these markets it is harder for newcomers to start.
Q: What are the biggest challenges with regard to recruiting, and how are you addressing those challenges?
A: The biggest challenge in recruiting is definitely own time management. Days are busy and it's easy to want to postpone calling my prospects. I got an excellent tip for that problem from Judy. My aim is to make at least five phone calls for prospects per day. In the morning I put five chocolate bites on my table and eat one after every call. My table has been empty every day! That's how much I love chocolate! And I have also reached my goals in recruiting. That's a win-win!
Another big challenge in Finland is to find agents who have licenses. The law changes by the beginning of 2016 and then at least half of agents in offices must have licenses. Hence everyone else wants to recruit licensed owner agents too. I have succeeded quite well already because in our offices, 70% of the agents are licensed. I like the operation model of HUOM! in Finland, but agents are different and want different kind of things. Money isn't always the most important thing in changing offices. In recruiting it is important to find out what motivates each agent the most.
Q: What should a broker's top priority be to become a profitable recruiter?
A: From my own experience I can say that in order to become a productive recruiter, training for recruiting is very important. Learning is constant and getting support and new tips, it is easier to get good results. Great results motivate and inspire me and my own enthusiasm shows surely for the prospect.
Q: What would be your one best tip for new recruiters?
A: I am a very goal-oriented person. I recommend you set a challenging and absolutely written goal for recruiting. Written goals guide your actions and are easier to achieve than the goals which are only in your mind.
Q: Wise words! If readers want to connect with you – what's the best site to do that?
A: You can reach me on LinkedIn at: https://www.linkedin.com/pub/jussila-maija/7b/252/264
Thank you so much Maija! We appreciate your sharing your ideas with our readers.
Want to learn more about becoming and STAYING a PROFITABLE broker?  Bookmark our blog, and join us to tap into a full spectrum of membership benefits with all the tools, strategies and solutions you need to become the turn-to broker in your area for top agents.  Learn more…