Two Keys to Success with Estonia's Kati Israel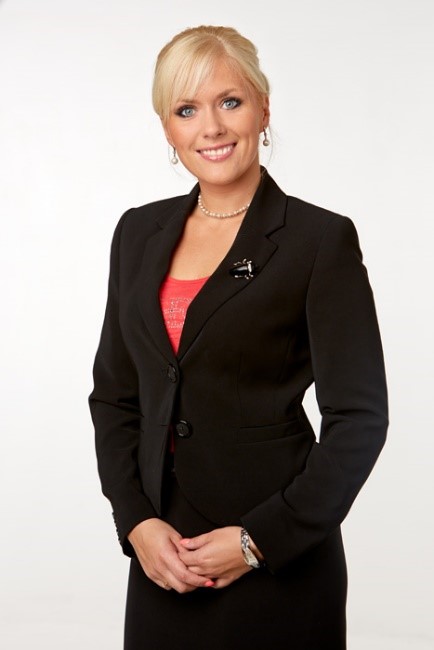 By Julie Escobar
This week we introduce another spotlight broker from around the globe to share her strategies and ideas with our readers – Kati Israel all the way from Estonia.  She brings to us a young, vibrant, and creative take on positioning yourself to be the broker to call in your area.
Here's what we learned…
Q:  First can You tell our readers a litte about yourself?
A:  Sure, my name is Katrin Israel and I work as a broker owner/agent  in RE/MAX PLUS office in Tallinn, Estonia, which is a small country located in Northern Europe with 1.4 million people. I have worked in real estate business a bit more than 3 years now and I purchased a RE/MAX Franchise together with my two colleagues at the begininng of this year. Before that i was working as an agent. I am thankful for that opportunity and I really enjoy and love my job.
Before I joined RE/MAX family, I worked at Swissotel Tallinn. Swissotel Hotels and Resorts is a deluxe business and leisure hotel chain, and I worked there as an Executive lounge receptionist.
Q:  How important is consistency to your recruiting efforts would you say?
A:  In my opinion if You want to be successful then consistency is definitly the key word. You need to have a plan and you need to follow your plan and activities. Sometimes it might be hard to motivate yourself and follow the plan but if you want to be succesful then that is the thing you need to do. I can say that consistency is one of the most important thing in our job. It does not matter if you are a real estate agent, broker owner or regional owner – you still need it!
Q:  What are you doing to creatively stay top of mind with the agents in your market?
A:  Our office is still very young because we bought the franshise at the end of February this year. Our team is young and very innovative and we try to do things that other offices do not do.  One of the first things we did was to make a movie about our team. The purpose was to show to public how we work and what activities we do together, also to show our strong teamwork and positiive atmosphere in the office. To be a litte bit different we also made a small teaser trailer to that movie just to put a little more fun to it.  During the football World Cup we also did a world cup finals calendar and we shared it with everybody for free. It also included an advertisement about our team and that we were recruiting.
We also had a RE/MAX PLUS sail made for our boat. It has been very popular already. Just recently there was a big sailing competion in Estonia which lasted a whole week and online newsletters took lots of pictures of our sail and it was everywhere in the news. Besides brand marketing it also served another purpose: we are now able to take our best clients and partners on some boat trips with us.  They love it!
A few times in a month we also do  online newsletters for the existing agents. We also had an office bowling night and we asked other agents to join us which was a lot of fun. During the World Cup we organized big gatherings where we could all watch together.
RE/MAX PLUS is also very active on Facebook. When one of our agent closes a deal, we always say something nice to congratulate them and include a picture. In the future we want that if our Facebook fans see the pictures, then they already know that we had a deal  that day.
Q:  What do you feel is a priority component to becoming (and staying) a profitabel recruiter in todays market?
A:  Again, the key word is the consistency! It doesnt matter what you do, but you need to do it consistantly.  Add to that — smile and be positiive and don't give up! Make a plan and start following it!
Q:  What is your top tip for new recruiters?
A: Everybody knows that it might be very hard in the beginning, but don't give up! Just keep on doing what you are doing and do it consistently. You need to be active and positive, and that energy  will for sure bring you to the next level! You need to dream big, believe it is possible, believe in yourself and in your team! You have all the opportunities in front of you!
Q:  Great!  If our readers want to connect with you-is there a social media or website url that sorks best?
A:  Everybody can always contact me via Facebook!  I would be really happy to answer to the questions and you can always add me on facebook!
Great stuff Kati! Thanks so much for sharing!  If you want to learn more about becoming a profitable (and CREATIVE) recruiter, contact us today, or visit our Member Benefits page to learn how we can help you get started now!