by Real Estate Coach Judy LaDeur
Today, more than ever, Brokers and Agents need to prove the value of their services. For Brokers, it's about having the tools and technology to recruit and retain the best agents. For agents, it's about having the tools and technology that the consumer wants. Both are the responsibility of the Broker, and Brokers who fail to respond to the needs of the agents, as well as the consumer, will find it increasingly difficult to attract or retain the best agents.
One of my favorite sayings is: In the absence of value, money becomes the substitute. There has never been a time when that is truer than it is today.  For clarification, I am not saying that all Brokers who offer a low fee structure lack value.  They could definitely have agent tools and support.  However, what we have seen is that a Broker who lacks tools, support, and services will typically have a compensation schedule with a very high split or low fees.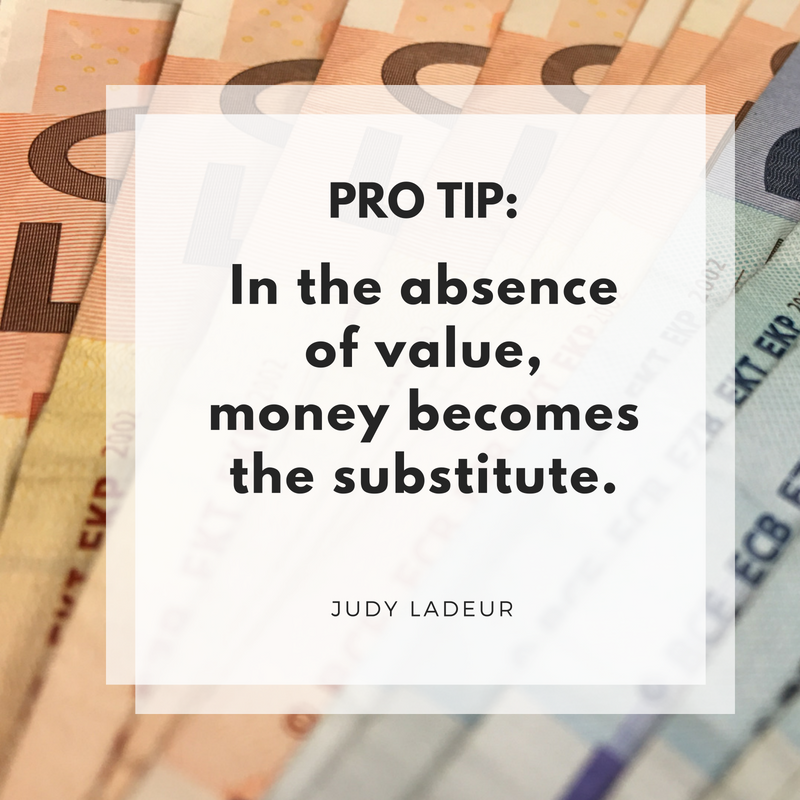 The majority of companies out there have a very competitive compensation and fee structure, based on the services that they provide. The challenge today is: How do you communicate the value of what you offer in services and tools in a way where money is not the deciding factor? It's a fact that the Brokerages with the most services and support will cost more because it takes money and support staff to deliver those tools and systems.  If it were just about money, every agent would be with the company in town that would pay them the most or charge them the least. Ask any Broker who has that type of set up and they will tell you, much to their surprise, that the money does not have much of an impact.  In fact, one of my coaching clients has an office in their market that offers 100% commissions to the agents and does not charge them anything!  Yes, that's a little crazy but there are other reasons for wanting the best agents on your team. That Broker is not recruiting agents from my client. Why?  Because the agents see the value in what is offered at their current office.  In today's agent world, the value of what you offer is equally important for recruiting as it is in retention, but let's talk about recruiting.
Once you have identified what the agent wants, the second step is to present the solutions that need and want. Here is where Brokers need to spend some time. Everyone has all the basic stuff that agents want and need.  What do you have that others don't and most importantly, what are the results that your agents are experiencing as a result of that support? For example, everyone has training of some sort, but perhaps yours is more personalized. Maybe you have coaches who work with your agents.  What are the results that agents have with your style of training? Everyone has marketing, but perhaps you have a marketing director, or an automatic drip marketing campaign. If so, what are the results of the agents who consistently market with your system? Value is created when you can offer proof, in the way of results, when you are presenting those solutions. We created a set of templates for each of you to use in your presentation. They are in your toolbox on the Profitable Recruiter Site. They are easily customized, but the best part is that each has a place for an agent testimonial about that tool or service. If you have not downloaded these tools, please do so today. People remember more of what they see than what they hear PLUS visuals have a greater impact. The best agents recognize value and are willing to pay for it. The same is true for cars or kitchen cabinets. There is a buyer for everything, and there is an agent for every company. Who are the best agents for your company? Those who want and see the value of what you offer.
Continue to learn how to master recruiting skills and be the broker to join in your market.  Bookmark our blog, and join The Profitable Recruiter today.  We have a full spectrum of membership benefits with all the tools, strategies, and solutions you need to position yourself to win this year and every year. Our goal is for you to become the "turn-to" broker in your area for every agent.  
Join today and take advantage of our special offer of 50% off with the promo code 50OFF any membership.  That's 50% off everything you need to be in the right place at the right time when the agents you want are ready to make a move – including SEVEN HOURS of recruiting audio training!  What are you waiting for? When you join – you and up to 10 managers can access your account! Try it for a month and see what it can do for you.