And Get Your Team Involved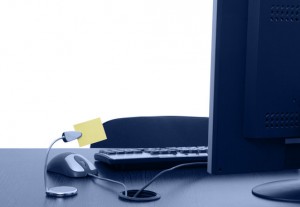 By Real Estate Recruiting Coach Judy LaDeur
I'm often asked about my 'favorite' scripts for recruiters.  Which ones to use when.  How can I get better (or less afraid) at making recruiting calls?  How do I know which agents in the market place would be a GREAT fit for our office?
Have I got a quick script for you that engages your current team in a positive way, and gets them to help line up new recruiting prospects FOR YOU, also in a powerfully positive way! I call it my "One Desk Left" script.  Here's how it goes:
First, task your agents to give you a business card and write the name of the agent they would like to see you hire if there was only one desk left in the office. Have them write the name on the back of their card. Then use this dialog to follow up with agents:
Only One Desk Left Dialog
Hello (their name), this is (your name and company name). Did I get you at a good time?
The reason for my call is to pay you a compliment. (Let them respond.) This week I walked around and asked each of my agents this question: If we only had one desk open and we could only hire one agent, who would you most like to see sitting in that desk? I am sitting here holding (number) cards with your name on the back! I was impressed, especially with the number of agents here in our marketplace. When my agents feel that way about an agent, I make it a goal to call and not only pass on the information, but to also see if we can get together. I would like to know more about how you do your business but would also like the opportunity to tell you more about the way we do business here at (Company Name).
If they say No:
I understand, and I respect that you are happy at your present company, but sometimes things change. I have always found that it is nice to at least know that the competition has to offer if that day ever comes.
Let me ask you this: If you were to make a move today, what would you be looking for in another company?
What training is most important to agents in today's market?
If I could help you increase your business by $ __ per year, would it be worth an hour of your time to see how?
Great, I have time available today or we could meet first thing tomorrow. Which time would be best?
Taking the fear and frustration out of recruiting calls starts with preparation.  With setting the stage consistently in your market place so that when you do have the opportunity to speak with the agents you most want on your team, they (a) know who you are, (b) know what makes your organization unique, and (c)  are comfortable talking to you because you've made them a priority to connect with again and again.  That's one of the reasons The Profitable Recruiter system works so well.  It gives you a low-key way to stay positioned with agents that would be good team members for your company.  Oh- and there's a bonus to this approach as well! RETENTION.  Your current agents will appreciate that you involve them, want to know their opinion, and are eager to choose new team members who THEY would work well with.  (How's that for a win-win-win!?)
Scripts, and practice also remove fear and increase your confidence to go after even the highest producers, because you have a track to run on once you pick up that phone.  This month we've made it even easier to find the recruiting scripts in our platform by putting them as downloadable pdf's in a navigation tab all their own!  Once you've logged into your membership site, simply click on the tab that says recruiting scripts.  Choose the ones that work best for you – print them and keep them in front of you when you're on the phone.  Many of our members even make several copies for their phone sessions, so they can add the recruiting prospect's name to the top, and keep notes on their conversation.  They can then transfer those notes into their CRM or database, or even go 'old school' and put them in a 'follow up' binder.
Do you want to hire more agents in 2016?  Learning to handle whatever objection comes your way with ease are both important parts of the puzzle! Not only will you learn many of these vital tools in the 7+ hours of audio training that you get as part of your Profitable Recruiter Pro membership – you have the advantage of learning on demand – individually or as a leadership team.
And if you HAVEN'T put systems in place to ALWAYS have the tools you need to grow your team with less headaches and more results – consider joining The Profitable Recruiter today.  From now until February 5th make any Profitable Recruiter Pro Membership part of your 2016 business plan, and take 25% off with the promo code 25OFF— PLUS, have the ability to add up to 10 managers or admins to your account at no extra cost!  That's 25% off everything you need to be in the right place at the right time when the agents you want are ready to make a move – AND includes the SEVEN HOURS of recruiting audio training, more than 30 webinars on demand, scripts, letters, social media tools and more!  What are you waiting for? Register today and hit the ground running for next year!