As a Profitable Recruiter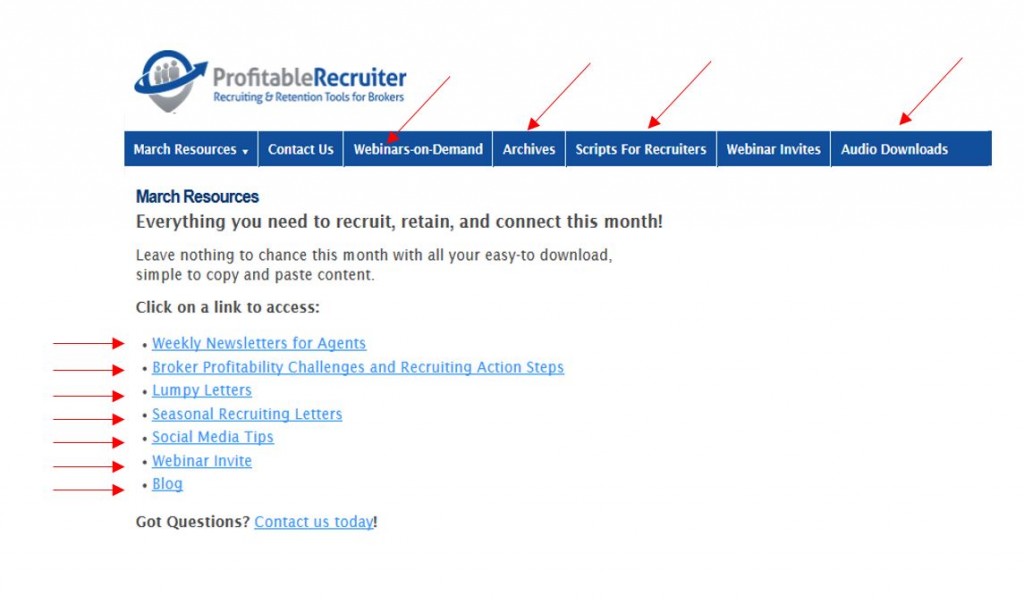 By Real Estate Recruiting Coach Judy LaDeur
Creating is hard right?  But crafting a marketing plan from already done for you tools is not only easy, it's smart marketing – and savvy time management.  This week, let's look at twelve powerful ways you can use your Profitable Recruiter Membership tools to recruit the agents you want, brand your company in your marketplace as the one to work for – and do business with, and lighten your daily to do list!
Stay positioned the RIGHT way. The number one thing you can do to recruit your dream team and retain the great agents you have is to stay in front of them at least monthly, if not weekly, with valuable information, inspiration, and a reminder that you are there when they need you.  Our most successful members log into their platform just before the first of every month (or have their admin do this for them) and click on Weekly eNewsletters.  They then copy and paste these weekly eNewsletters into their own email platform (we recommend a platform that allows you to track opens, click through rates, etc.) and then schedule them to go out every Monday morning before 7:00 am.  Not only will you get tons of positive feedback, this week alone, we had several brokers tell us that agents are asking if they can add OTHER agent friends to the weekly campaigns.  You'll be staying top-of-mind, growing your hit list, and put yourself in the position of being the number one broker to call when those agents are ready to make a move.
Work the challenges.  Each week, we share a challenge and action step that you, the broker and recruiter, can take to further your recruiting goals and grow a stronger business.  The brokers that do, are full speed ahead and on track to surpass their goals.
Pro Members Use Lumpy Letters.  Each month you'll get these new attention grabbing letters which are meant for the top 10-20% of your recruiting prospect list.  Sent monthly, they not only put you front and center on the radar of those top agents, they will help make you the talk of the real estate town with chatter about how creative you are, how you went the extra step, and how they can't wait to see what you'll send next.  They make follow up fun and easy – and they'll make picking up the phone because the agents are CALLING YOU with a thank you, a welcome relief from cold calls! Top brokers simply copy these (or have their admin copy), order the 'lumpy' part of the mail (we offer links so you can find these items easily), and have their admin assistants put them in bubble mailers and send out the first week of every month.
Pro Members Use Seasonal Recruiting Letters.  Each month we add 2-3 seasonal and timely recruiting letters that you can copy and paste onto your letterhead, hand sign, and send to the top 100 prospects on your recruiting list.  We also offer retention letters that you can use to do the same and send or hand deliver to your current agents to make sure they feel special.  There is power in receiving something in the mail in today's electronic world.  Use it to your advantage.  The first or second week of every month simply copy, print, sign, and send.  (Three of those activities you can even delegate – how cool is that?)
Social Media Tips.  Every month we deliver enough content and ideas to keep you visible (without stressing you out or taking up too much time) as well as strategies to brand you and build a strong, positive online presence.  It's an easy, breezy way of kicking up your social media without having to reinvent any wheels.  You can even use great tools like SproutSocial.com to copy and paste some of these into a platform and schedule your posts.
Webinar Invites.  Every month we host TWO webinars.  One for brokers in which we spotlight top recruiters and coaches with timely topics and strategies on what works – and even what doesn't (common pitfalls) to keep you on track for your recruiting goals.  Secondly, we host an agent webinar with top agents and coaches who deliver powerful strategies to help your agents (and prospects) rise to the top of their field and stay there.  Our top brokers open the invite tab at the first of the month, register for their own webinar, then copy and paste the agent registration link into one email that goes out to all of their existing agents, and a second email inviting all their prospective recruits (use a platform, bcc options, or email individually for confidentiality) to attend.
Blog.  Bookmark the blog for powerful interviews, scripts, dialogues, broker spotlights, etc.
Learn at your own pace.  Click on the Webinars on Demand tab in your platform to watch a wide spectrum of past webinars at your own pace. There are agent and broker webinars here so you can use some as training opportunities for your sales team.  Preview a topic, pick one each month and invite your agents in to watch on demand and workshop what they've learned.  This is a GREAT tool if you have an in house trainer.  (Ask us about how to give them access of their own to this popular section of the membership platform.)
Archives.  We archive several months of tools at a time so you can peruse other lumpy letters, eNewsletters and tools if you want to switch things up a little!
Recruiting Scripts for our Pro Members. We add new scripts and dialogues for even the toughest recruiting and prospecting calls and interviews here each month.  Top members print these out and practice, drill, and rehearse so that they are ready for ANYTHING an agent might through their way!
6 Month and Annual Members access over SEVEN HOURS of audio training for recruiters.  These audio files run the gamut of what brokers face each day and teach you how to master your trade as a broker, recruiter, and business professional.
Help your agents do the same.  Through April 15th, brokers can register for The Profitable Sales Agent for 25% off the membership fee and share THAT content with their agents so they have the vital tools THEY need to stay top of mind, build a strong referral base and sphere and capture the respect, trust, and BUSINESS of the consumers in your community.  In this platform they will get:
Weekly eNewsletters designed to be sent to home buyers and sellers complete with DIY home tips, real estate tips, a motivational message, and calls to action
Free collateral material and fair trade items such as staging tips, listing tips and more
Access to their OWN webinar training spotlighting top agents and coaches each month
Agent challenges and weekly action items to keep them motivated and on track
Webinars on Demand so they can learn at their own pace
Archived tools so they can peruse past success strategies
Social Media Tips and Strategies so they can build a strong online presence themselves and connect with their sphere
Creating is hard. Using the tools that others have built for you that will position you for the success and growth that you want for your business?  Is simple and affordable! If you are a Profitable Recruiter Member – make sure you are taking full advantage of your membership platform by following the twelve tips above.  If you want to register YOUR Company for The Profitable Sales Agent and deliver the tools above to them – click here and use Promo Code 25OFF to save 25% on your membership through April 15th. 
If you are NOT a member of The Profitable Recruiter but would like to start using these powerful done-for-you content training and tools, then register here and you too can use the promo code 25OFF to save 25% on any pro membership.  To access the Audio downloads, register for either the 6 month or annual memberships.  Got questions?  Email us!  We'd love to help!  Make it a great year!