If Not, WHY Not?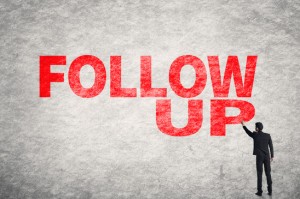 by Real Estate Recruiting Coach Judy LaDeur
A great way to build relationships with agents is to take advantage of the opportunities to work with those agents who sell your company listings of whose listings you sell. You not only have a 60-day window to work with them on those sales, but you can also use the fact that they sold your listing to invite them to social events, educational events or extend recognition to those agents.
Here are some examples:
Invite them to an event.  When agents think they have earned the right to be at the event, they are more likely to attend, than if they thought they were being recruited. You can send out an invite followed up with a phone call which says: Because you have sold one of our listings this year we would like to invite you to be our guest at…
Thank them.  You should always call those that your agents are working with and thank them for selling your listings, or the great way in which they always handle the transaction. After closing, send a note to the homes of the ones you want to interview, or if you know the spouse, send it to the spouse.
Ask around.  Ask your agents about who they are working with and what the experience has been.  Those are great conversations to have with your current agents,and shows you care about how their transactions are going, and your agents are your best source of referrals.  They know who would be a good fit for your team and who wouldn't.  Ask if there was one agent out there who you've had a great experience with — a ten on a scale of one to ten — who would it be and why.  Then call those agents up and share that compliment.  Let them know you're impressed and you've got an open door if they ever think about making a move.
Befriend those agents on social media. Use your social media platforms to be top-of-mind with your co-broking agents so they can get to know you over time.
Write a recommendation for them on LinkedIN.  Everyone can use kudos – especially when they are well warranted.  Writing a recommendation is a great way to let those agents know they are doing a great job and that you noticed, and for the clients and friends in THEIR sphere to hear see those glowing words about them as well.
The possibilities are endless, but definitely be sure to incorporate these ideas into your spring recruiting efforts.
Recruiting  is all about staying in touch.  Staying positioned.  And communicating.  We have the systems that can help you do all of that and more.  Become a member of The Profitable Recruiter today, and put the power of done-for-you content and tools that make recruiting experienced and new agents easier, less time-consuming, and even fun.  Register today and use the promo code 25OFF to save 25% on any pro membership.  To access more than SEVEN HOURS worth of my recruiting Audio downloads, register for either the 6 month or annual memberships.  Got questions?  Email us!  We'd love to help!  Make it a great spring season!