Guidelines, Action Plans, & Dialogues

By Real Estate Recruiting Coach Judy LaDeur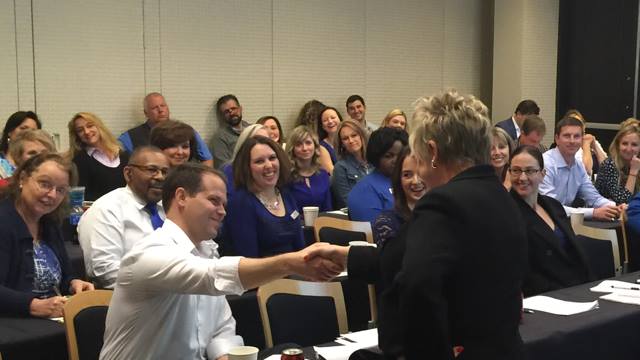 Did you know that agents who have been in the business for 12-24 months are the easiest to hire?  Why? Most new agents do not know what to look for in a brokerage, but if they made the wrong choice, they usually make a move in their second year.  Since they are not settled into their office yet, they are not as loyal as those who have been in the same office for years. They are searching for a better option. So, why not give them one?
Here are some guidelines for hiring this type of agent, as well as the advantages to hiring them.
Hiring Guidelines:
You need to interview them carefully, since some of these agents should not be in real estate.
You need a coaching and/or mentoring program in place.
They need lots of education and training.
You need to hold them accountable.
Advantages:
The majority of all agents who go on to become top producers will make their first move within their first two years in the business.
This is the easiest way to get in front of a lot of agents to fine-tune your interview skills to be ready for recruiting season
If you get them early, you can keep them for life with the right support.
They are very loyal to you once you get them since you rescued their real estate career.
Action Plan:
Determine which agents in the marketplace have been in the real estate business for 24 months or less. You should be able to get that list from the state or board. If not, you have a little research to do.
Call using the dialog below.
Implement a program to welcome all new recruits in your area. You can follow the guidelines of my "Welcome New Agent" system, which is: send a letter to all new recruits to welcome them to the business, follow up with a phone call to introduce yourself, then follow up 3-4 months later to see how they are doing, Add the ones who are up and running to your hit list and build a relationship with them.
Implement a mentoring program.
Organize weekly coaching sessions.
Hold new and newer agents accountable for the first 90 days.
Gather statistics and testimonials from agents who join and do well with your company.
Someone needs to be responsible for a program. If it is not you, then you need to get someone to run it for you.
In the interview process, these agents need/are looking for: marketing support, a strong name in the marketplace, coaching, training, mentoring, business planning, and a proven way to build their business, as well as testimonials of others who have succeeded with your firm.
Dialog to get them in for the interview:
"Our records indicate that you are fairly new to the business. Is that correct? How long have you been in real estate? How is your real estate career progressing?"
"The reason for my call is: A NAR survey of top producers indicated that approximately 87% of all agents surveyed made their first move, their first year in real estate. Have you made your first move?"
If yes: "When did you make your move? Who did you start your career with? Because you have made your first move, statistically speaking, you're on your way to becoming a top producer, so I would like to set up a time for you, and I should get together so we can start to build a relationship. Most agents will make 2-3 moves in their real estate career, so we would like to give you some info about (your company name) now so that when that time comes, you will know enough about us to know if we are a good option for you."
If no: "Are you making the kind of money that you thought you would make when you got into the real estate business? What type of personalized coaching, mentoring, and training have you received?
If you knew that you could take your career to the next level and make the kind of money you hoped you could make by making a move to (your company name), would you make the move?  (If yes) Let's get together and see if you can."
Set an appointment to come in that day or the following day if possible. The sooner they come in, the better the results.  Don't forget that the best time to call agents is 9:00-10:00 am at their home. Have fun and enjoy your results!
By the way – once you get them into the office for an interview and you feel like they are a great fit – don't forget to try my signature "handshake close".  It's getting AMAZING results for my recruiting coaching members all over the world.  If you're a Profitable Recruiter Member — login to your audio training and learn how it works!
Ready to dial up your recruiting, and position yourself to attract the agents you want sooner rather than later? Join top brokers from around the nation who are members of www.TheProfitableRecruiter.com. You'll get all the tools you need each month to position yourself as the broker to join when agents are ready to make a move. Fine-tuning your skills this summer? All members get access to over SEVEN hours of training via downloadable links, including interview skills, scripts, objection handlers, and more. PLUS, you'll have access to entire libraries of recruiting letters and notes, emails, social media content, training webinars for recruiting and retention, and opportunities to network with the best of the best.
Join today and take advantage of our special offer of 50% off with the promo code 50OFF any pro membership. That's 50% off everything you need to be in the right place at the right time when the agents you want are ready to make a move!